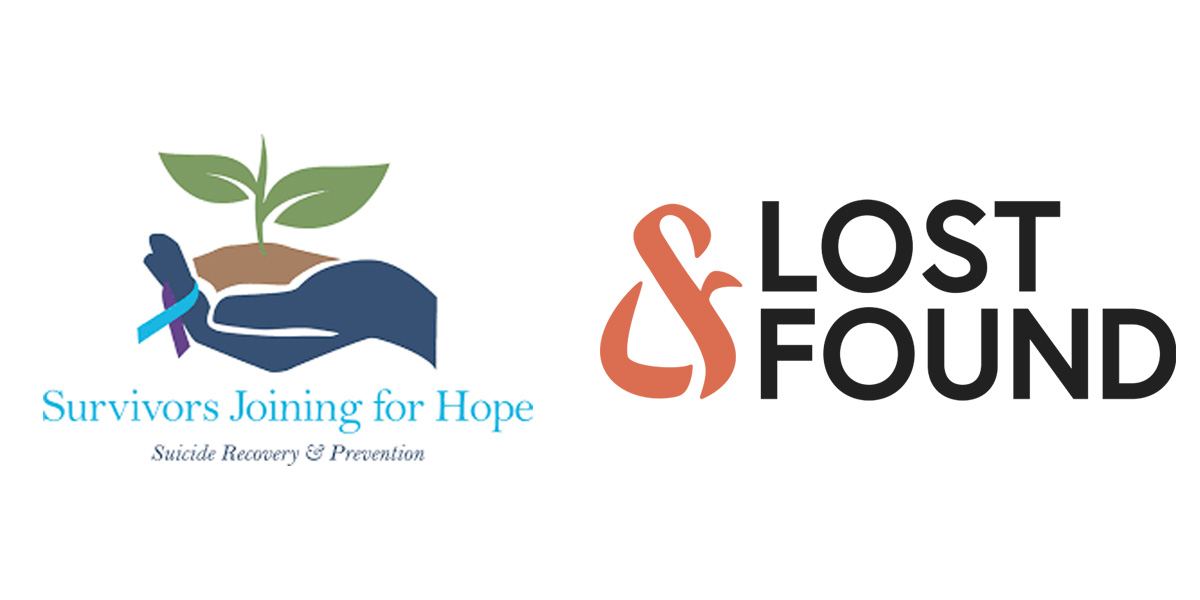 Survivors Joining for Hope's work supporting suicide loss survivors will become a department of Lost&Found
Survivors Joining for Hope, a nonprofit that provides financial support to families that have suffered a suicide loss, will cease to be an independent organization on August 1, but its work and its name will continue as a department of the suicide prevention organization Lost&Found.
The board of Survivors Joining for Hope (SJ4H) voted on June 20 to dissolve the organization and pass its assets, as well as its mission and programming, to Lost&Found.
Board members of SJ4H, which has been run entirely by volunteers, see the integration with Lost&Found as a way for SJ4H to have a bigger impact and get closer to reaching its potential.
"Survivors Joining for Hope is tremendously excited at the opportunity to unite with Lost&Found," said SJ4H Founder and Executive Director Brad Hearst. "Alliance of the two organizations brings the opportunity to support a larger audience and grow SJ4H's programming to levels that our present capacity didn't allow. The mental health community and survivors of suicide loss will now have greater support structure throughout South Dakota."
Lost&Found sees the addition of SJ4H's programming as a way to expand its work addressing the scourge of suicide in South Dakota and the surrounding region.
"We have been honored to partner with Brad Hearst and Survivors Joining for Hope (SJ4H) over the past six years to prioritize and support suicide prevention efforts in our community," said Erik Muckey, Executive Director and CEO of Lost&Found. "The Lost&Found team is energized by the opportunity to join forces and continue the impact of SJ4H and its programs and financial assistance for suicide loss survivors for decades to come."
Stakeholders from both organizations are working together to shape how SJ4H's work will continue as part of Lost&Found. These are some of the changes that will be part of the integration:
The name "Survivors Joining for Hope" will continue as the name of Lost&Found's new postvention services department.
Lost&Found's mission has been updated to include youth as young as 10 years old (youth as young as 15 had previously been part of its target demographic) and to include suicide postvention as well as prevention services.
SJ4H's Financial Assistance Program for survivors of suicide loss will continue, prioritizing youth and young adults (ages 10-34) and/or their support networks in South Dakota, starting with the campus partners currently served by Lost&Found.
The Survivors Support & Resource Network will continue.
The new department will work to craft and recommend postvention policies for schools, colleges, and employers.
SJ4H's Youth Prevention programming will be integrated into Lost&Found's programming.
The work of highlighting stories of those impacted by suicide loss will continue through blog posts, videos, and podcast content.
The work of the Survivor Support & Resource Network, the development of postvention policies, and the Youth Prevention Program will be done with new staff and community partners. These programs will be rolled out in coming months.
"Our hope is that, through unification with Lost&Found, we will be able to provide direct support to the youth throughout our service area," Hearst said. "We felt that L&F had the infrastructure and programming to bring both our survivors loss support program and youth program to a new level. The goal will be to bring loss support programming to college-aged students and younger as well as to grow our peer-to-peer support network."
About Survivors Joining for Hope
Survivors Joining for Hope was founded in 2016 by Brad Hearst of Sioux Falls, S.D., after his brother died by suicide. The name of the organization honors his brother, Sergei Joseph Hearst, through its initials. SJ4H was founded to provide funding to families that had suffered a loss by suicide so they could focus on grief recovery instead of financial pressure.
The board initially had four members; over six years, it grew to 11 members. By 2022, the organization's initial focus on the Sioux Empire had expanded to cover the entire state of South Dakota and beyond—SJ4H has served people from nearly every state on the East and West Coasts. Its programming also expanded to include a support network, support groups, and suicide prevention programming for youth.
About Lost&Found
Lost&Found was founded in 2010 by five high school graduates from South Dakota who were motivated to "do more" to prevent suicide. For the first eight or so years, Lost&Found's work was centered on its campus chapters, which raised awareness of mental health needs and advocated for suicide prevention policies.
The organization has grown significantly in the past four years—from no employees to 15, from a focus on campus chapters to work in three departments (Student Programs, Education & Advocacy, and Evaluation & Research Services), and from three campus chapters to working with 13 post-secondary institutions in South Dakota and Minnesota. More geographical and audience expansion is coming this year.
The organization is headquartered in Sioux Falls and currently serves communities as far west as the Black Hills and as far east as the Twin Cities.