Great Minds with Lost&Found podcast: What It Means to Have Pride in Suicide Prevention with Cody Ingle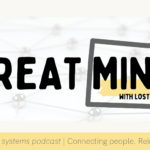 In this conversation, Cody Ingle shares his perspective on suicide prevention from the lens of someone who has working in the LGBTQ+ space and identifies as a gay man. We break down social structures and chat about systems that impact the queer community and how that leads to increased risk of suicide.
To learn more about suicide risk and impact on the LGBTQ+ community, check out the following link from the Trevor Project – trevor01_2022survey_final.pdf.
To learn more about the work that Lost&Found is doing to prevent suicide among youth and young adults, go to resilienttoday.org. Follow us on Facebook, Instagram, Twitter, LinkedIn and YouTube (@resilienttoday).