Great Minds with Lost&Found podcast: The Economic Impact of Suicide with Brad Hearst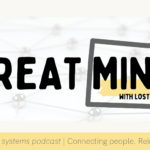 Brad Hearst, Founder and President of Survivors Joining for Hope, a newly acquired program of Lost&Found's, is on the show to talk about the economics of prevention, intervention, and postvention of suicide.
Using the The CDC's seven strategies for preventing suicide found in their technical package for suicide prevention, to guide his work, Brad shares how increasing economic supports can be a protective factor against suicide. We get into the ways finances and economics can be both risk factors and protective factors for prevention, depending on the situation.
To learn more about the work that Lost&Found is doing to prevent suicide among youth and young adults, go to resilienttoday.org. Follow us on Facebook, Instagram, Twitter, LinkedIn and YouTube (@resilienttoday).