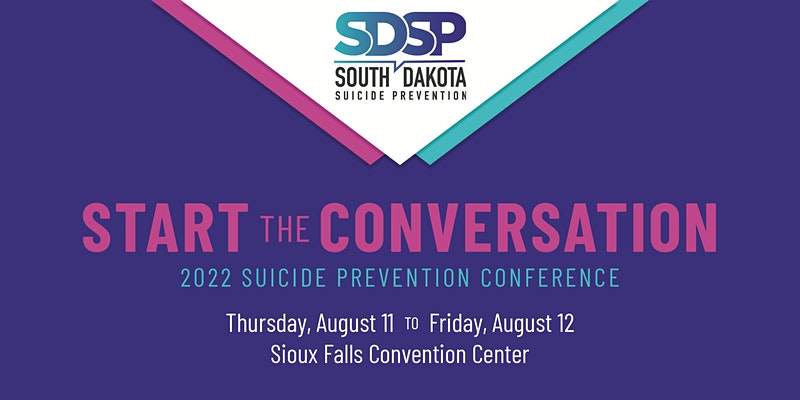 Start the Conversation: 2022 Suicide Prevention Conference
Celebrate South Dakota's successful and impactful suicide prevention work. This conference will provide additional tools and resources for suicide prevention and stigma reduction related to mental health.
Key speakers include:
KEITH HOTLE – Keith is the Chief Program Officer at Stop Soldier Suicide. He provides leadership in suicide prevention, personal empowerment and health promotion for veterans, active military and their families.
DR. SCOTT POLAND – Dr. Poland is a licensed psychologist and an internationally recognized expert in school safety, youth suicide, self-injury, bullying, school crisis prevention, intervention, threat assessment and parenting in challenging times.
BEVERLY BEUERMANN-KLING – Beverly Beuermann-Kling is a resilience and wellness strategist who uses or S-O-S Principle to help people control their reactions to stress, build resiliency against life's challenges and live MORE.
DIANA CORTEZ YANEZ – As a multiple attempt suicide survivor, Diana has a mission to save lives by educating and informing health institutions and families on how to connect, support, and transform systems and communication to better aid those in crisis.
DR. HEATHER AYN IDELICATO – Heather Ayn Indelicato, PsyD. ("Dr. I") is a licensed psychologist. She led the Zero Suicide Implementation Team at Tséhootsooi Medical Center (TMC) on the Navajo Reservation. The team was distinguished as a national leader in providing culturally informed, suicide safer practices.
This event is hosted by the South Dakota Suicide Prevention Workgroup with funding from the Department of Social Services and Department of Health.
This two-day conference will be held on August 11th from 10:00am-5:00pm CST and August 12th from 8:00am-12:00pm CST, with an optional training opportunity from 12:00pm-1:00pm CST.
Register at Start the Conversation: 2022 Suicide Prevention Conference Registration, Sioux Falls | Eventbrite.
Hourly Schedule
Thursday, August 11
10:00am

-

5:00pm

Sessions/Speakers
Friday, August 12
8:00am

-

12:00pm

Sessions/Speakers
12:00pm

-

1:00pm

Optional training opportunity