Data shows students are very satisfied with Peer2Peer, Advocates programs
Data gathered at the end of the spring 2022 semester show that students said they gained skills and were satisfied with Lost&Found's Peer2Peer and Advocates programs.
"All the great feedback we got about the session topics was wonderful," said Melissa Renes, Senior Prevention Specialist, who coordinates the Advocates program. "It was reassuring to hear that we were fulfilling the expectations students had and they were learning more than when they started."
One of the positive outcomes Renes noted was the creation of a safe space to discuss difficult topics.
"Talking about mental health can be difficult, especially to ask questions that may have been stifled in the past," she said. "Students are eager and wanting to discuss these topics, so creating the safe space for students to talk openly about their questions and concerns, and to learn knowledge, was important, and we achieved that."
Another success was the way students completed advocacy projects and the end of the program. "The students that completed advocacy projects did so eagerly, thoughtfully and really expanded their knowledge and skills in the projects they chose.  Some took on quite a big project and completed it wonderfully," Renes said.
Renes hopes these programs can be expanded to other campuses, and that more students will sign up on both current and new campuses. "We have some great Advocates who are educating their fellow students about how great the program is, so using their testimonial is better than any pamphlet."
See the data below, or click on the images at right to open downloadable PDFs.
Lost&Found Peer2Peer Program 2021-22
Data
South Dakota State University & University of South Dakota
The program brought together student mentors, who got guided practice helping others, with mentees, who are students who need a little support navigating college life. Mentor pairs met two times a month, a minimum of eight times over the course of a semester.
25 mentor pairs participated during the 2021-22 school year.
FEEDBACK from MENTEES

What were some important things you learned from your time as a mentee? (selected responses)
Getting more confident about myself

 

Ways to make the most with my time, and to not blame myself when things go wrong.
Starting to think that I could open up more and trust people but it is ok that I don't fully
What have you enjoyed most about the program? (selected responses)
Their flexibility where we can still be part of the program while doing our personal stuff. I have improved a lot in term communicating with others and dealing with unusual situations.

 

The advice from my mentor helped me a lot.
I have enjoyed having someone who is older and more experienced on campus help me out because I know that at one point in time they were just like me.

 

I enjoyed having a person to vent to, that's been nice.

 

Having someone to talk to that is around the same age as me and has more open times to meet and talk.
FEEDBACK from MENTORS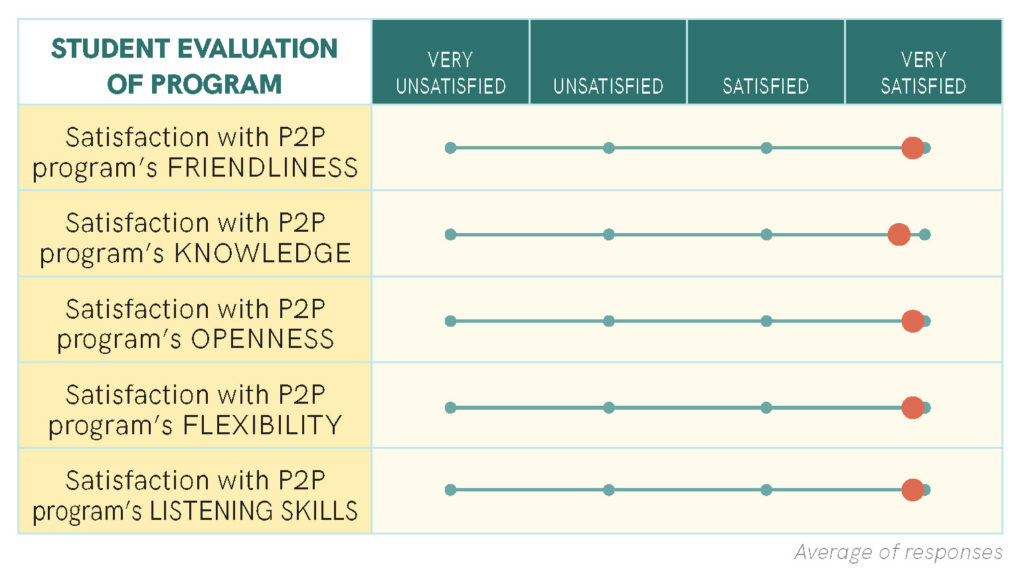 What were some important things you learned from your time as a mentor? (selected responses)
How impactful an hour a week can be on a person.

 

I think I just learned more about my mindset and how I myself reflect on my life experiences. It's beneficial for me to have this reflection time and think about how far I've come, too!

 

I feel I learned how to problem solve and think on my feet and evaluate sources for useful solutions and advice.
Be open to different forms of communication. Not everyone has the same experiences throughout college.
Any additional comments? (selected responses)
I loved seeing the growth and progress (mentee's name) has made throughout the semester.

 

I enjoyed my time in the program, and I'm thankful to have been a part of such cool change!
I was so grateful to be a part of this program and am looking forward to doing it again next semester!

 
Lost&Found Advocates Program 2021-22
Data
Dakota Wesleyan University, University of South Dakota, & Carlson School of Management (University of Minnesota)
The program included 5 mental health training sessions + an advocacy project, if a student chose to do one.
36 students participated in the 2021-22 school year (14 from DWU, nine from USD, and nine from Carlson).
17 students attended all five sessions (five more attended four sessions).
17 students completed advocacy projects (5K, NAMI Night, discussion roundtable, Greek Life event, presentations, art installation).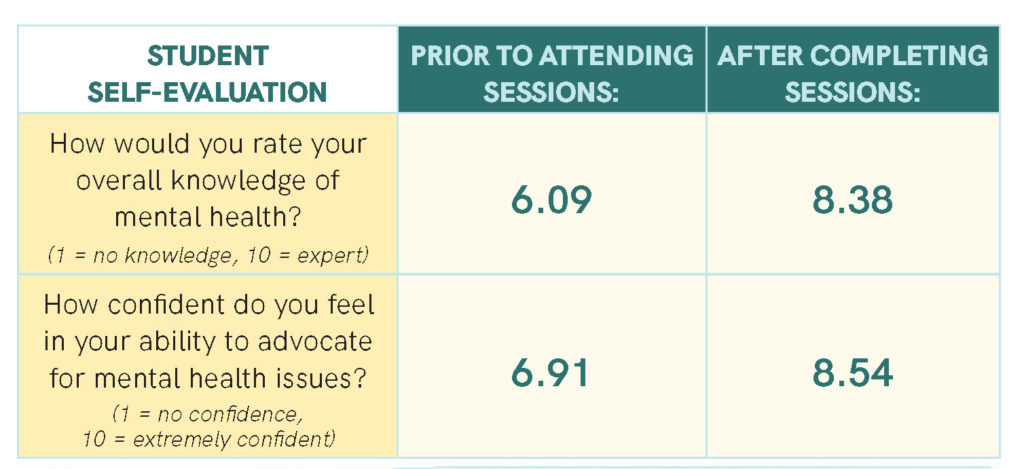 Lake Area Technical College & Dakota Wesleyan University's Learn & Earn Program
The program at LATC included 3 mental health training sessions facilitated in person in a seminar format. The program for DWU's Learn & Earn students was 5 mental health training sessions facilitated virtually. 
30 LATC students participated in the 2021-22 school year.
9 DWU Learn & Earn students participated in the 2021-22 school year.

What did you like about the program? (selected responses)
Understanding difficult issues (i.e. suicide, depression, etc.) and using that information to help people in close proximity.
I really enjoyed the ability to talk to people who knew more about this topic than I did.
I enjoyed all of the statistics and resources that were shared!
That they talked to us openly and told us not to be afraid to talk to someone we trust.
I enjoyed the variety of topics that were covered and how it all tied back to mental health. The information provided portrayed how complex mental health and suicide prevention is.

 

I liked how open it was and how comfortable it was.

 

I liked that I was able to meet new people and expose myself to new opportunities on campus.

 

Having you guys get us engaged

 

Going into relationships
Learning more about boundaries and being more self aware
It felt like a safe space to talk about your experience and connect it to the curriculum and learn to help others and speak on hard issues.

 

Learning more about just taking care of yourself

 

All the recommendations and the reassurance that we have help

 

It talked about topics that are important to everybody.