Walter Portz will give keynote at Make Your Mark event Nov. 17
A sampling of artwork by Walter Portz accessed through his X profile, @the55disciple
Sioux Falls artist and entrepreneur Walter Portz will give the keynote presentation at the Make Your Mark on Mental Health event on November 17.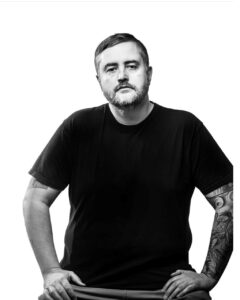 "We are thrilled to be able to share Walter's perspective on art, mental health, and resilience with our friends at the Make Your Mark gala," said Erin Bosch, Chief Development Officer at Lost&Found.
Portz is an artist, skatepark advocate, community advocate, and photographer with two decades of professional experience at Studio Blu Photography. Sioux Falls residents may know his recent work on a mural on a parking ramp on East 10th Street. With a background as a former graffiti artist, Walter delves into a myriad of art forms including photography, painting, paper art, spray paint, collage, Xerox art, AI art, digital art, video, experimental art, sculpture, written words and audio.
Walter's art is often an expression of grief, loss, and mental health challenges, expressing raw honesty and vulnerability. He strives to lay bare the myriad of human emotions, encouraging an open dialogue and letting others know that it's okay to experience such feelings. Art, for Walter, is not just a medium of expression but a crucial component of his mental health therapy.
From December 2021 to July 2022, following a significant mental health episode, Walter immersed himself in his art, creating between 2500-3000 iterations using a blend of digital collage, spray paint, Xerox, and wheat paste. In September of the same year, he embraced AI as a tool to iterate further on themes of mental health, not with the intention to commercialize his art, but as a therapeutic method for self-healing.
Walter continues to intertwine AI with various mediums, persistently exploring and addressing issues related to mental health and well-being. His journey is not about selling art; it's about the continuous exploration and healing process that art facilitates.
Tickets for the event are available here.