Great Minds with Lost&Found podcast: Suicide Prevention and Gun Safety with Veterans Affairs and Moms Demand Action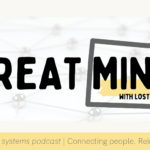 Content Warning: Great Minds with Lost&Found episodes contain mature themes, including mental health, suicide, addiction, and others that may not be appropriate for all audiences. Listener discretion is advised.
Using the CDC's seven strategies for preventing suicide to guide our work, we spoke with Patty Mayrose (a veteran, a VA nurse, and Moms Demand Action volunteer) and Emily Thomas (the State Chapter Lead for the South Dakota Chapter of Moms Demand Action) about how they create protective environments for those at risk of suicide and improve the mental health landscape in Sioux Falls and South Dakota. Learn more about the Be SMART program, designed to help adults and parents normalize conversations about gun safety and take responsible actions that can prevent child gun deaths and injuries. If you are a veteran or know a veteran (or anyone else) struggling with mental health challenges or facing suicidal thoughts, call 988, then press 1 to be connected to the Veterans Crisis Line.
To learn more about the work that Lost&Found is doing to prevent suicide among youth and young adults, go to resilienttoday.org.  Follow us on Facebook, Instagram, Twitter, LinkedIn and YouTube (@resilienttoday).
Listen on Spotify or find other listening options on Anchor.
You can also watch this episode on YouTube.