Great Minds with Lost&Found podcast: Strengthening Systems of Care with Lindsey McCarthy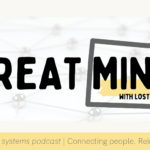 Lindsey McCarthy, Executive Director of Southern Plains Behavioral Health Services, a South Dakota-based agency fulfilling social and emotional health needs in the community.  Using the CDC's seven strategies for preventing suicide found in their technical package for suicide prevention to guide our work, we asked Lindsey how SPBHS is utilizing these same strategies in their services, which include psychiatric care, counseling, case management, systems of care, community education, crisis intervention and emergency services, trauma support, and so much more.
To learn more about the work that Lost&Found is doing to prevent suicide among youth and young adults, go to resilienttoday.org. To learn more about the work that Southern Plains Behavioral Health Services is doing to strengthen access and delivery of suicide care in South Dakota, go to spbhs.net. Follow us on Facebook, Instagram, Twitter, LinkedIn and YouTube (@resilienttoday).
Listen on Spotify or find other listening options on Anchor.
You can also watch this episode on YouTube.
>