Great Minds with Lost&Found Podcast: How a Statewide Run Is Changing Lives with the 437 Project (recorded at Remedy Brewing)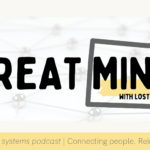 Content Warning: Great Minds with Lost&Found episodes contain mature themes, including mental health, suicide, addiction, and others that may not be appropriate for all audiences. Listener discretion is advised.
In this episode, Lost&Found continues our live podcast series as part of our 30 Days 30 Stories project for National Suicide Prevention Month. The project tells the stories of 30 South Dakotans living with mental illness, grief, or loss and demonstrates how storytelling is a critical part of suicide prevention. Host Joel Kaskinen chats with guests Benson Langat and Carter Gronseth about their experience running across the state of South Dakota to raise awareness of mental health with
The 437 Project
.
The 437 Project is a statewide run that is changing lives by raising funds for the Helpline Center's 988 Suicide Prevention and Crisis Line and raising awareness of mental health in even the smallest of communities in the state. Spanning from the Wyoming border to the Iowa border, this run is 437 miles long and is split up between 12 runners who are passionate about community building and mental health.
Listen on Spotify or find other listening options on Anchor.
You can also watch this episode on YouTube.
<
In the case of emergencies, call the 24/7 hotline at 1-800-IN-CRISIS. If you or someone you know is facing a mental health crisis, call 988. If you are a veteran facing a mental health crisis, call 988 and then press 1.
Learn more about L&F student programs here.
To learn more about Lost&Found, go to resilienttoday.org.  Follow us on Facebook, Instagram, Twitter, LinkedIn, and YouTube (@resilienttoday).
Thanks to 4Front Studios for shooting, editing, and producing Great Minds with Lost&Found. To learn more about 4Front Studios, go to https://4frontstudios.com/.