Great Minds with Lost&Found podcast: Support for Historically At-Risk Populations: From Striving to Thriving with Taneeza Islam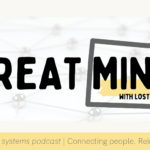 Taneeza Islam, Executive Director of South Dakota Voices for Peace, a Sioux Falls-based nonprofit with an aim to dismantle bigotry and racism targeting refugee, immigrant, and Muslim communities, is on the show to talk about how SDVFP's services help to support our work of prevention, intervention, and postvention of suicide, among a population at great risk, especially in South Dakota. Using the CDC's seven strategies for preventing suicide found in their technical package for suicide prevention, to guide our work, we asked Taneeza to think through the work that SDVFP does to strengthen economic supports for the communities she serves and how we can do more by working together, rather than in silos.
To learn more about the work that Lost&Found is doing to prevent suicide among youth and young adults, go to resilienttoday.org. Follow us on Facebook, Instagram, Twitter, LinkedIn and YouTube (@resilienttoday).
Listen on Spotify or find other listening options on Anchor.
You can also watch this episode on YouTube.