Great Minds with Lost&Found podcast: We Can Do More to Prevent Suicide with Jake Danielson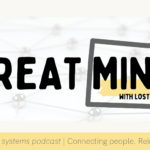 Content Warning: Great Minds with Lost&Found episodes contain mature themes, including mental health, suicide, addiction, and others that may not be appropriate for all audiences. Listener discretion is advised.
Jake Danielson is a South Dakotan living with anxiety, depression, psychosis, and other mental health challenges. He has survived multiple suicide attempts, has been in and out of treatment, and has recently started a movement inspiring others to share their stories of mental health struggles. In this episode, Jake chats with host Joel Kaskinen about these challenges, how being a college athlete impacted his mental health, what gets him through his toughest days, and his work with the
We Can Movement
.
This episode is part of Lost&Found's annual #30Days30Stories digital storytelling campaign for #NationalSuicidePreventionMonth. With goals of increasing awareness of mental health challenges, empowering others to share their stories, and providing resources for support, this campaign is a major part of Lost&Found's advocacy strategy. Read all stories shared through this campaign at
30stories.org
.
To learn more about the work that Lost&Found is doing to prevent suicide among youth and young adults, go to resilienttoday.org.  Follow us on Facebook, Instagram, Twitter, LinkedIn and YouTube (@resilienttoday).
Listen on Spotify or find other listening options on Anchor.
You can also watch this episode on YouTube.