Great Minds with Lost&Found podcast: How Social Media Impacts Mental Health with Gabe Dannenbring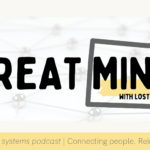 Content Warning: Great Minds with Lost&Found episodes contain mature themes, including mental health, suicide, addiction, and others that may not be appropriate for all audiences. Listener discretion is advised.
You may know Gabe Dannenbring as "that teacher from TikTok," but Gabe is so much more than just an influencer. Gabe is a local South Dakotan, former college athlete, and human who struggles with mental health challenges just like the rest of us. In this episode of Great Minds, Gabe shares his experiences with mental health, how social media "fame" has impacted his wellbeing, and how he teaches his students to use social media in a healthy way.
This episode is part of Lost&Found's annual #30Days30Stories digital storytelling campaign for #NationalSuicidePreventionMonth. With goals of increasing awareness of mental health challenges, empowering others to share their stories, and providing resources for support, this campaign is a major part of Lost&Found's advocacy strategy. Read all stories shared through this campaign at
30stories.org
.
To learn more about the work that Lost&Found is doing to prevent suicide among youth and young adults, go to resilienttoday.org.  Follow us on Facebook, Instagram, Twitter, LinkedIn and YouTube (@resilienttoday).
Listen on Spotify or find other listening options on Anchor.
You can also watch this episode on YouTube.