Great Minds with Lost&Found podcast: Learning from Broken Systems with Cherokee McAlpine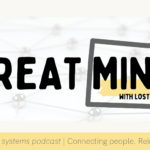 Content Warning: Great Minds with Lost&Found episodes contain mature themes, including mental health, suicide, addiction, and others that may not be appropriate for all audiences. Listener discretion is advised.
In this episode of Great Minds with Lost&Found, host Joel Kaskinen chats with Cherokee McAlpine about her lived experiences with mental illness, the foster care system, and healthcare. Surviving a turbulent childhood of abuse, trauma, drugs and alcohol, rape, and multiple suicide attempts, Cherokee now shares her story with others in hopes that they will have a greater understanding of the needs children in similar situations have. Cherokee is a soon-to-be mother, working with youth, and striving to provide them with a better life than the one she had growing up.
This episode is part of Lost&Found's annual #30Days30Stories digital storytelling campaign for #NationalSuicidePreventionMonth. With goals of increasing awareness of mental health challenges, empowering others to share their stories, and providing resources for support, this campaign is a major part of Lost&Found's advocacy strategy. Read all stories shared through this campaign at
30stories.org
.
To learn more about the work that Lost&Found is doing to prevent suicide among youth and young adults, go to resilienttoday.org.  Follow us on Facebook, Instagram, Twitter, LinkedIn and YouTube (@resilienttoday).
Listen on Spotify or find other listening options on Anchor.
You can also watch this episode on YouTube.