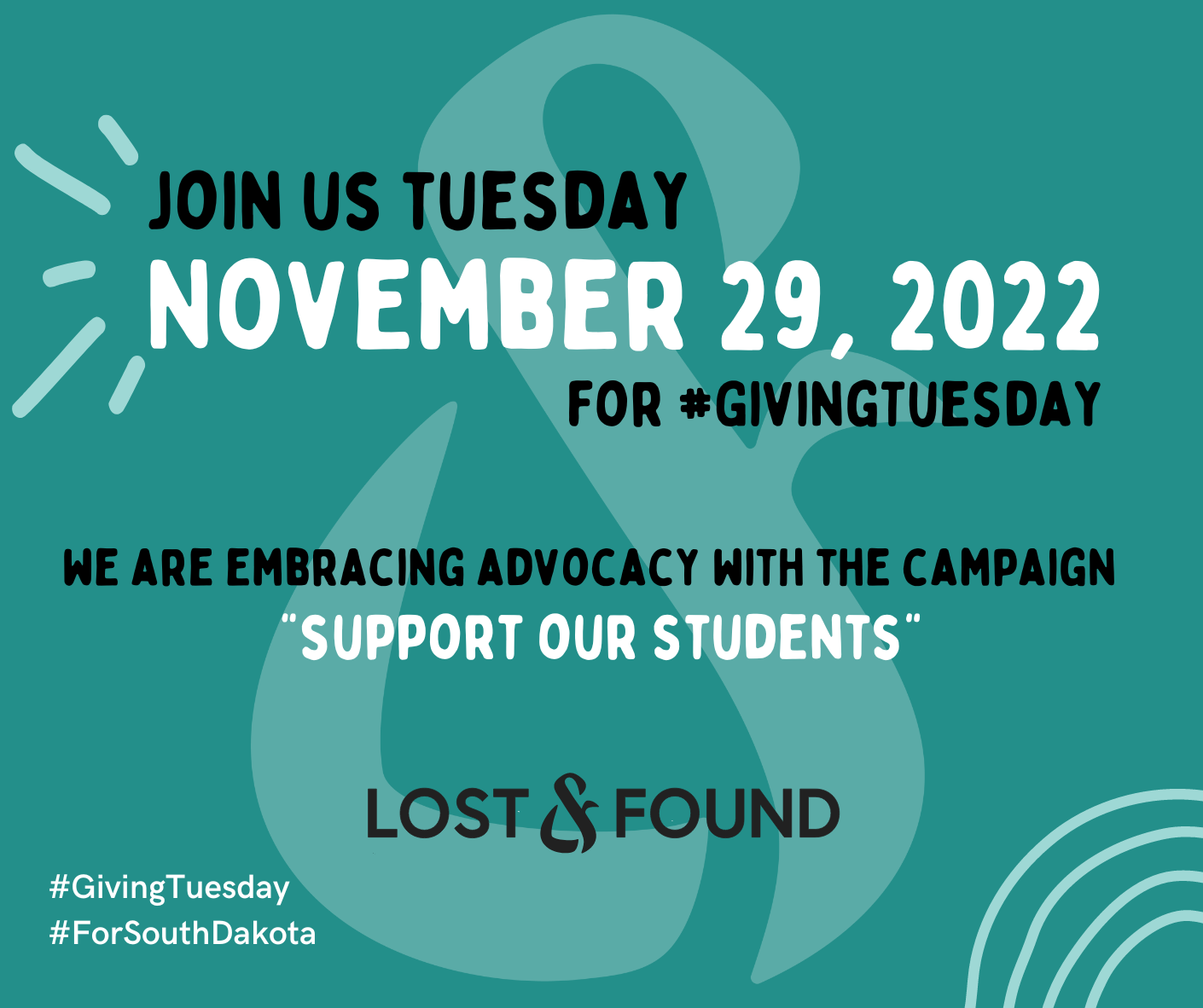 Giving Tuesday
Each year, Lost&Found invites its community to support its suicide prevention—and now, postvention—efforts on Giving Tuesday. This year Lost&Found is raising awareness and funds to support our students in South Dakota (through South Dakota Gives) and Minnesota. This is a great day to share our message because much of the work has already been done to get the word out!
With an intense day of social media activity on Facebook, Instagram, LinkedIn, and Twitter, we have the chance to reach hundreds or even thousands of people in one day, all with the hope of supporting student programming.
Why Support Our Students?
Mental health conditions and suicide risk continue to reach unprecedented levels for youth and young adults (ages 10-34) in South Dakota and Minnesota. Lost&Found's three student programs on college campuses in our region equip our next generation with the tools and knowledge they need to address and advocate for their own mental health needs, provide support to others, and change systems that treat mental health.
Thanks to the generous support of Ken and Pat Duncan, Lost&Found has been issued a challenge for Giving Tuesday: Reach 150 donations, unlock $15,000 to Support Our Students!
To meet this challenge, we need your help. You can make a donation, of any size, and Support Our Students in less than five minutes. Every dollar raised will fund mental health education, advocacy, and peer support programs for college students in South Dakota and Minnesota.
#GivingTuesday is about more than raising money. It's about building a resilient community, through spreading the word about who we are and what we do #ForSouthDakota and the surrounding area. An online campaign of this caliber can yield great results, so let's take advantage of this opportunity!